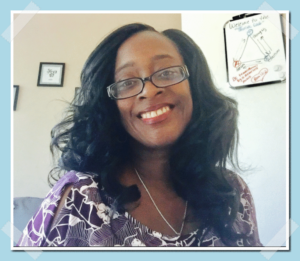 Hello, I am Kristia. I am a Christian, a wife, a mother, Licensed Psychotherapist, a Christian Counselor, Coach, and Course Creator. My journey began a long time ago when (before the age of 12) I knew I wanted to become a psychotherapist. I never made a plan B (which is interesting because I am a plan b type of person), there was not going to be another career option. To best illustrate this is to begin with my story of being born with Sickle Cell Anemia. If you do not know about this, I can say that it is a condition involves excruciating pain and a shorter lifespan. I recall discovering while in college that the life expectancy was around 27 years old; I was 19 years old at the time. I remember that at that point I had to make a decision–to continue in college and pursue this career or stop school, chill (go back to my little Cookie Company job that I had during high school) and wait for the Lord to bring me "home."
I decided to continue college and that it would be worth if if I make it to become a therapist for just one day and then I go home to be with Jesus. So here I am, and I have been now practicing over 20 years (good call, right???) and I am absolutely blessed in doing exactly what I always wanted to do (without a plan b). By the way, it has been nearly 16 years since I have been in the hospital due to excruciating pain or any other Sickle Cell related issues (thank God for a praying husband).
My graduate studies resulted in degrees in Christian Counseling and Clinical Psychology. I have been working with those who want a Biblical perspective to enjoy mental and emotional wellness; and those who wanted straight psychological principles. I am super easy to work with in meeting you just where you are with no judgements and I am not afraid to show my range of emotions and humor (when it is appropriate/therapeutic, of course). So if you are ready to heal…grow…and thrive, then LET'S DIG IN.